Social Distancing Vehicle Specials

Add Convenience to Your Next Camping Trip with Social Distancing Specials with the KarMART Automotive Group
Sometimes, you just want to get away. You have the perfect vehicle for it, whether you're driving a sturdy, rugged truck with all the trailering and hauling that you need or you're in the driver's seat of an SUV to bring the whole family along for the ride. During unprecedented times like these, it can help to have a vehicle that accommodates all your needs. When you're looking to enhance their versatility or capability, the team from KarMART Automotive Group can help you out with a wide variety of accessories that help you social distance and enjoy your vacations or weekend getaways.
We encourage you to stop by and explore our available accessories to add to your experience. With our selection, you can enhance your car, truck, or SUV to meet your needs and help you social distance in style when you hit the mountain for some camping or when you check out the road less traveled. We look forward to helping you find the perfect accessory for your lifestyle!
Explore Truck Accessories with the KarMART Automotive Group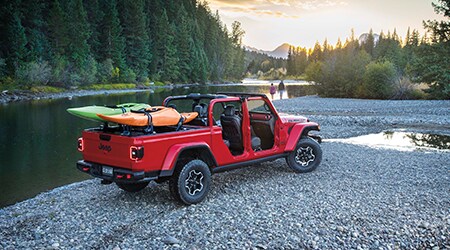 Driving a truck allows you to do things that you wouldn't be able to with other vehicles, like enjoying a cozy ride while you haul outdoor recreational toys and gear to your next campsite without worrying about where it will all fit. You might not always be able to put everything in the back, so why not make things easier with truck accessories at our dealership. For truck owners, you can have a rack installed on the top of your truck, allowing you to set up a rooftop tent with an attached awning.
A rooftop tent requires a roof rack to support it but once it is installed, the tent is mounted on top and remains there while you're at the camping grounds. It's a great way to keep it set up without putting it on the ground. This helps you avoid bugs and potential rain from leaking in through the bottom. During travel, the tent is collapsed and can be popped open when you arrive at your destination. We recommend this accessory to make setting up the tent easy and convenient when you drive a truck.

Ensure Your SUV is Equipped with the Right Accessory for Your Next Adventure
When you drive an SUV, you want to make sure you have enough room for all your camping gear and your passengers to sit comfortably. Having the right accessory can add to your vehicle's capability and ensures that you're ready for your trip. The KarMART Automotive Group is happy to offer a variety of crossbars, mounts, and a choice of any combination that includes bike racks, kayak racks, and snow/ski racks. Whether you're looking to take advantage of the summer months on your bike or down the stream in your kayak or you want to hit the slopes with skis and snowboards, you can ensure they stay mounted with our available accessories.
An SUV can also equip crossbars, mounts, baskets, awnings, and off-road light bars, which helps you bring more along on those trails to your hidden destination campsites and ensures you get there with provided clarity from your off-road light bar.
Trucks aren't the only ideal vehicle for rooftop tents! Some SUV models can support the same configuration, as long as you have a roof rack to support it. Keep the rain and pests out and mount your tent to the roof of your SUV for peace of mind.

KarMART Auto Group is an American Expedition Vehicle (AEV) Dealership - Only a Few in the State of Washington
There is only a handful of AEV dealers in the United States, and we're proud to be among the ranks! Here at our dealership, you can explore exciting Jeep Wrangler models outfitted with top-notch AEV equipment to give them even more of an edge on rough terrain. The Wrangler is already an iconic trail-conquering warrior, but our selection of AEV Jeep Wrangler models come with a few extra tricks and tools to help them help you take total control of your expeditions.
What are AEV Jeep Wrangler Models?
These Jeep Wrangler vehicles are models equipped with suites of AEV accessories to help them added protection, performance, and capability so that you can get the most out of your adventures. We offer two packages: the AEV JL350 and the AEV JL370. Each one offers a wide range of AEV equipment and accessories such as:
AEV 7000 Series LED off-road lights
AEV hot-stamped steel front bumper
AEV rear bumper and tire carrier to help secure your spare tire
Upgraded suspension system with extra ground clearance and Blistein shock absorbers
Exclusive AEV branding, emblems, embroidered headrests, and more
And a robust array of other fantastic accessories
So, if you thought the Trail Rated Jeep Wrangler couldn't be more of a powerhouse on the trail, our AEV packages are sure to make you think again. AEV accessories build on the impressive strengths that make the Wrangler what it is, enhancing its abilities to take it to the next level.
Eager to find out more about our AEV options? Feel free to get in touch with us today to learn all about our AEV models and discover how you can take your next adventure by storm. We'll be happy to answer questions and help you find the right vehicle for your lifestyle.
Work with KarMART Automotive Group to Find the Perfect Accessory!
At our dealerships, we're happy to help you find the right setup for any adventure you want to go on. Give us a call today or stop by, and we'll hook up your truck or SUV with exactly what you need.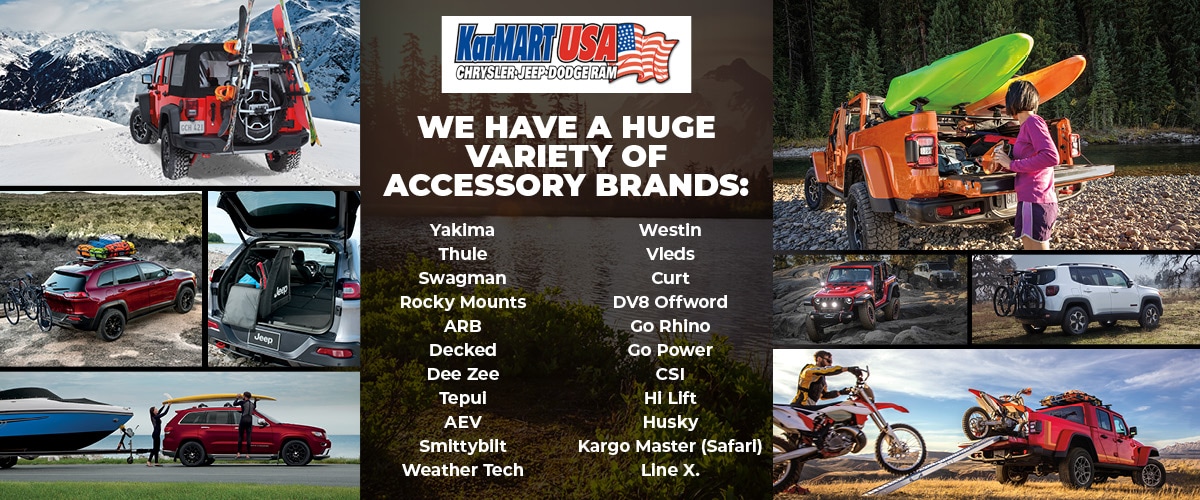 Below are examples of package deals - we have many other options available.
We're sorry, we do not currently have any specials published. Please check back soon or contact us for more information.
KarMART Automotive Group

655 Auto Blvd
Burlington, WA 98233


KarMART Nissan

655 Auto Blvd
Burlington, WA 98233


KarMART Chrysler Dodge Jeep Ram FIAT

660 Auto Blvd
Burlington, WA 98233-3700


KARMART MITSUBISHI

1751 BOUSLOG ROAD
BURLINGTON, WA 98233


KarMART Volkswagen

1725 Bouslog Road
Burlington, WA 98233